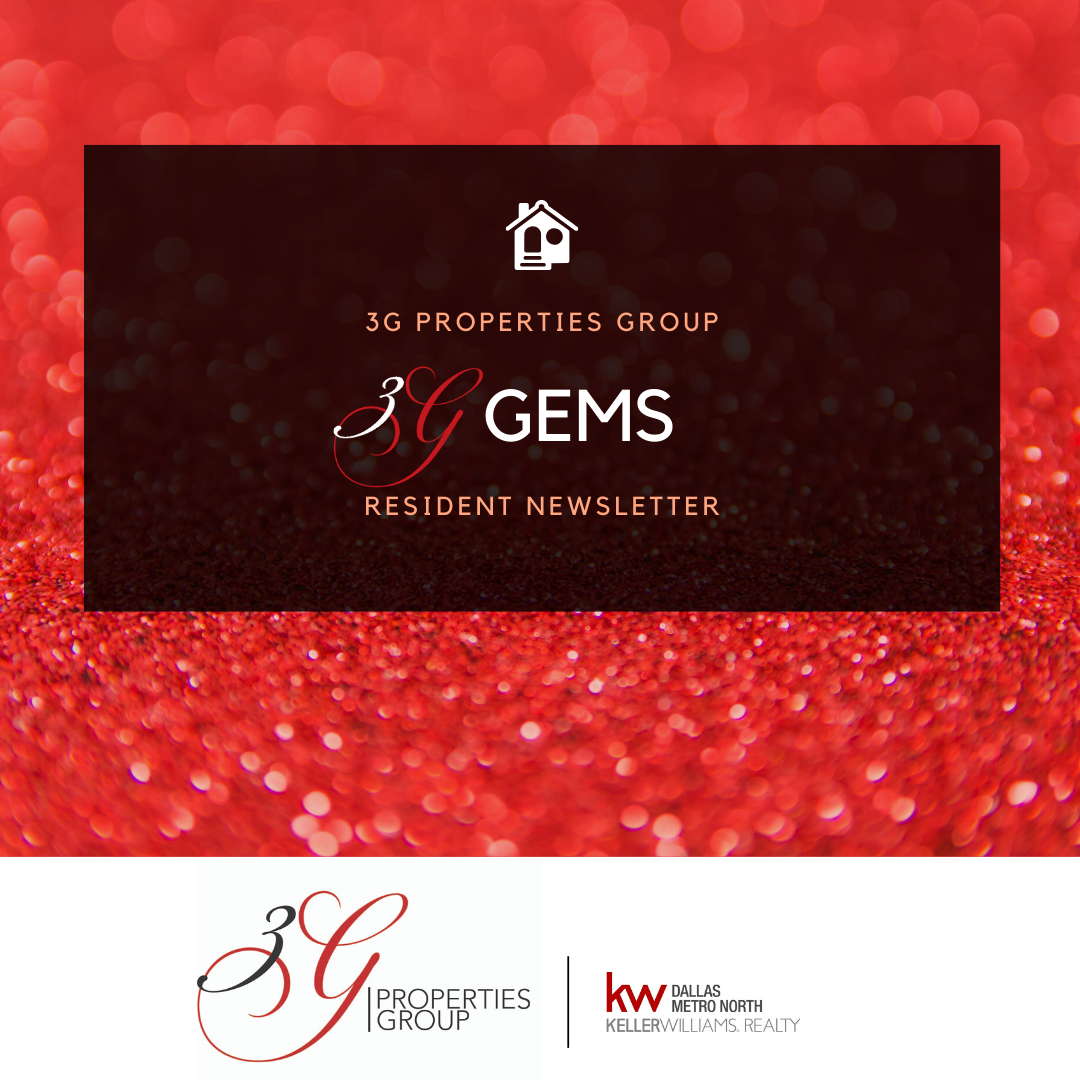 TENANT NEWSLETTER
December 2021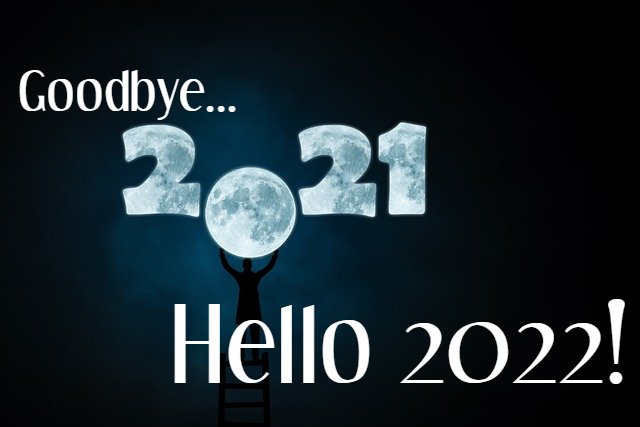 HOLIDAY OFFICE CLOSURE
Christmas: Friday, December 24th, and Monday, December 27th
New Year: Friday, December 31st
---
MAINTENANCE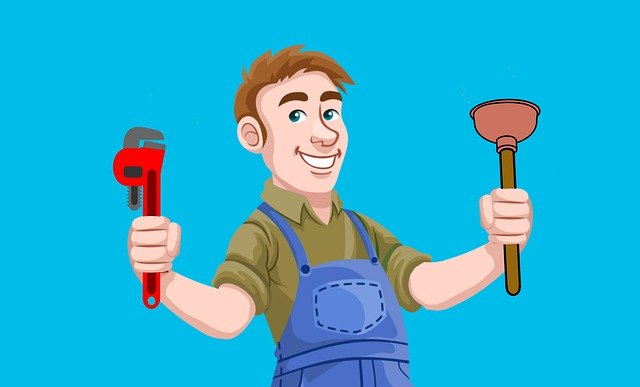 In an effort to improve our operations, we began a new maintenance process effective November 2, 2021. Please utilize your tenant portal to submit all maintenance requests. If you require assistance with navigation of your portal, please feel free to reach out to our maintenance team at 3Gpropertiesgroup@af.fyxed.com.
For maintenance emergencies, please contact our maintenance call center at (713) 352-3768, to submit a request and a member of our team will process your request with the highest sense of urgency. Please also submit a written work order through the portal.
What is considered a maintenance emergency?


Toilets: None of the toilets are working in the home (Not just one)

Sewage backup: You are experiencing a sewer backup (not a just a clogged drain)

Leaks: Water leaks that cannot be contained with a bucket/towels or stopped when water has been shut off by the main plumbing valve

HVAC: No Heat/No AC when temperatures are below 55 degrees or 85 degrees inside of the home.

Security and safety issues: Broken windows and broken doors (not lockouts)

Electrical: Outages (not caused by the power company) that affect major parts of the home.
**Not all emergencies require immediate after hours response.
Please note, if you smell gas or your carbon monoxide (CO) detector is going off, or you are experiencing a fire, please contact 9-1-1 first for help and afterwards please contact our call center to make our maintenance team aware of the issue. Please also submit a written work order through your portal.
If you have any questions or want to inquire about an existing maintenance concern, please feel free to reach out to our maintenance team and we will get back with you as soon as possible.
---
Where to See Christmas Lights in Dallas-Fort Worth: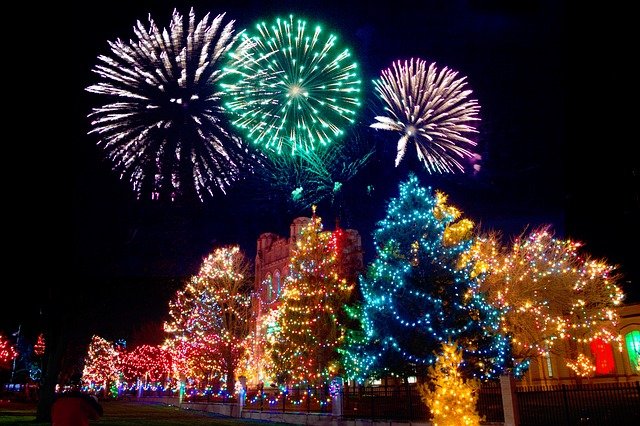 ---
COLD WEATHER TIPS FOR WINTERIZING YOUR HOME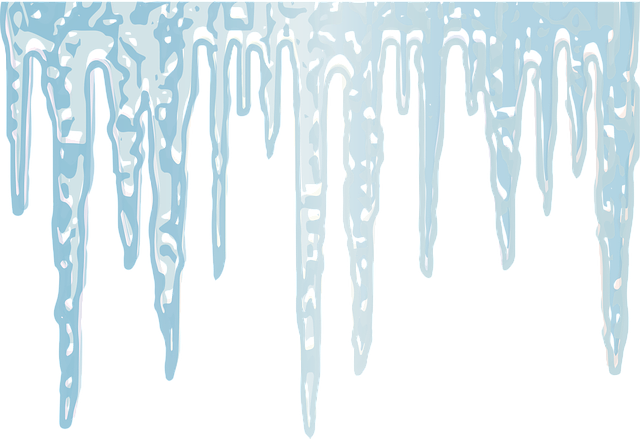 As temperatures begin to drop, your home will require some low maintenance in order to keep it worry-free throughout the cold and freezing months.
Here are some easy tips on how to winterize your home:
Water Lines – to prevent water lines from freezing and bursting during cold weather:
• Allow water to trickle, especially at night when the temperatures drop.
• Disconnect and drain all garden hoses from outside faucets and store, removing them from the harsh elements if possible.
• Always know where your water main is located in case you need to shut it off in emergencies.
• Shut off the water to the exterior hose bibs.
• Insulate hose bibs with Styrofoam insulators.
• Open all cabinet doors to allow warm air to circulate and warm the pipes.
• If you go on vacation, leave the heat on, set to at least 55 degrees.
• Sprinkler systems should be shut off and drained.
Prepare an Emergency Kit:
• Buy flashlights or battery operated lanterns for use during power shortages. Other suggestions include: battery powered radio, drinking water, pre-packaged non-perishable food, propane camp stove fuel (NOT to be used indoors), non-electric can opener, charged cell phone, tool set, first aid kit, prescription medication plan in effect and pet food if you have a pet.
• Have an evacuation plan in place. Know where your main water shut off is located. Review emergency procedures with everyone in your residence if you have not prepared emergency procedures for your household, do it now. It is important that everyone knows what to do in the event of an emergency or disaster. If you already have one, review it once again and make sure the procedures are still applicable.
Be alert! If you see something unusual – for example if your water does not come on, or if you see water leaking anywhere in or around your home, please submit a work order through the portal immediately.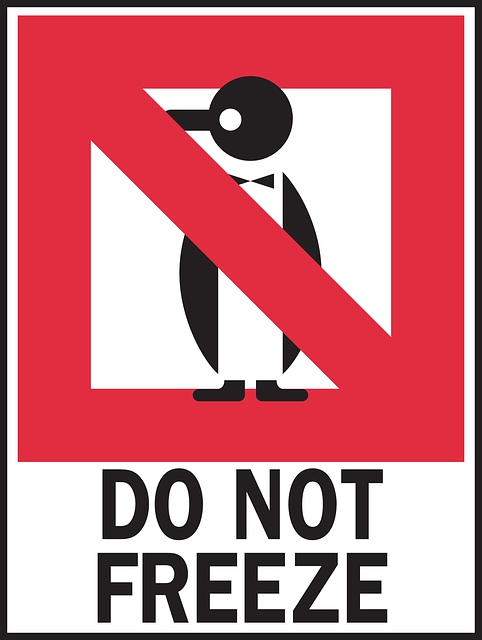 ---
CRANBERRY MEATBALLS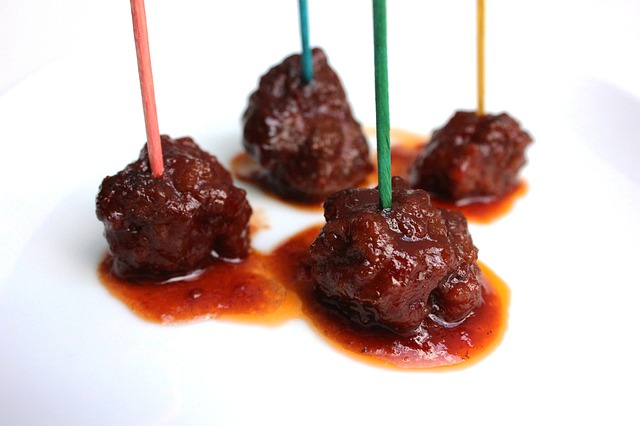 These Cranberry Meatballs are a flavorful and easy appetizer recipe that makes the perfect treat for holiday entertaining!
INGREDIENTS
2 pounds ground beef

1 teaspoon fresh parsley - chopped

1 tablespoon soy sauce

1/2 teaspoon garlic salt

2 tablespoons chopped onions

1 cup quick-cooking oats - uncooked

2 eggs - beaten

1/4 teaspoon pepper

1/3 cup ketchup

Cranberry Sauce:

1 can (14 ounces) jellied cranberry sauce

1 bottle (12 ounces) chili sauce

1/2 cup brown sugar - packed

1 tablespoon lemon juice
INSTRUCTIONS
Begin by preheating your oven to 350 degrees F.
Next, in a large bowl, combine all of the meatball ingredients. Mix with a fork until well combined. Then, roll into 2-inch balls and arrange the balls on a shallow baking pan. Bake for 25 minutes. When done, drain off any excess grease.
In a small bowl, prepare the cranberry sauce by whisking all of the ingredients together until smooth. Then, spoon the sauce over the meatballs and bake for 15 more minutes. Serve warm.
---
Enjoy a Safe Holiday Season
Decorate Safely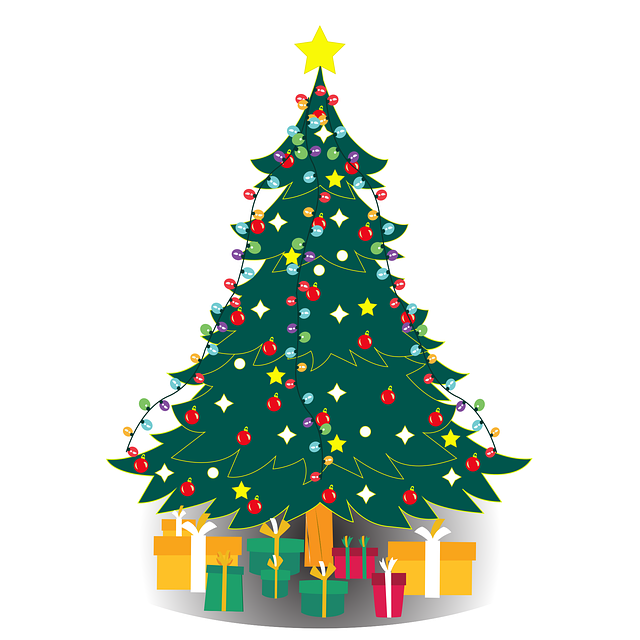 Decorating is one of the best ways to get in a holiday mood, but emergency rooms see thousands of injuries involving holiday decorating every season.
When decorating follow these tips from the U.S. Consumer Product Safety Commission:
Keep potentially poisonous plants – mistletoe, holly berries, Jerusalem cherry and amaryllis – away from children

If using an artificial tree, check that it is labeled "fire resistant"

If using a live tree, cut off about 2 inches of the trunk to expose fresh wood for better water absorption, remember to water it and remove it from your home when it is dry

Place your tree at least 3 feet away from fireplaces and other heat sources, making certain not to block doorways

Avoid placing breakable ornaments or ones with small, detachable parts on lower tree branches where small children and pets can reach them

Only use appropriate indoor lights "inside" and outdoor lights "outside"
Do not hang lights or decorations that require the use of a ladder for safety reasons
Never nail, tack, or use stress wiring when hanging lights and keep plugs off the ground away from puddles and snow

To prevent permanent damage, do not staple or nail lights or decorations to the house (recommend using Command Brand damage-free hangers and outdoor light clips)
Replace light sets that have broken or cracked sockets, frayed or bare wires, or loose connections

Follow the package directions on the number of light sets that can be plugged into one socket

Turn off all lights and decorations when you go to bed or leave the house
Watch Out for Fire-Starters
Candles and Fireplaces

Use of candles and fireplaces, combined with an increase in the amount of combustible, seasonal decorations in many homes during the holidays, means more risk for fire. The National Fire Protection Association reports that one-third of home decoration fires are started by candles and that two of every five decoration fires happen because the decorations are placed too close to a heat source.
Place candles where they cannot be knocked down or blown over and out of reach of children

Keep matches and lighters up high and out of reach for children in a locked cabinet

Use flameless, rather than lighted, candles near flammable objects

Don't burn trees, wreaths, wrapping paper or anything in the fireplace

Never leave candles burning unattended or when you leave the house
Turkey Fryers
Be alert to the dangers if you're thinking of celebrating the holidays by frying a turkey. The Consumer Product Safety Commission reports there have been 107 fire or burn incidents, 47 injuries and $5.2 million in property loss since 2004 due to turkey fryers.
NSC discourages the use of turkey fryers at home and urges those who prefer fried turkey to seek out professional establishments or consider using an oil-less turkey fryer.
---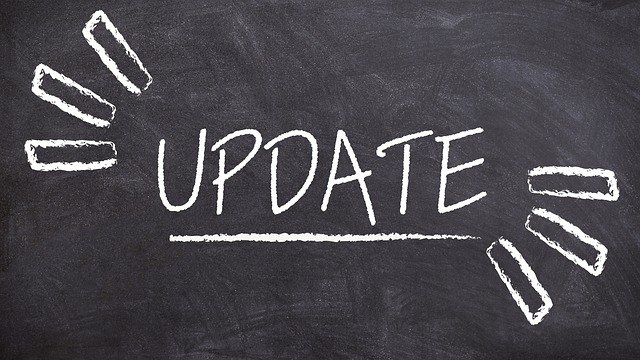 PLEASE REMEMBER TO KEEP YOUR RENTER'S INSURANCE POLICY CURRENT AND UP TO DATE! Please send us a copy of your renewed policy so we can add to your portal:
---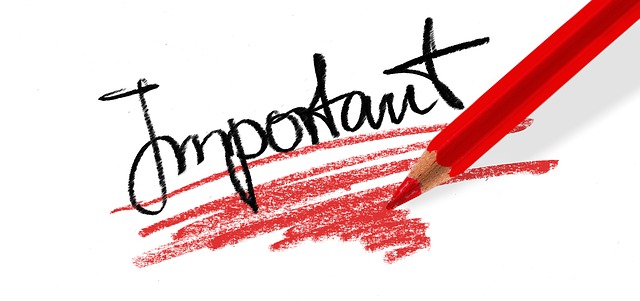 Tips & Reminders
Maintenance requests MUST be in writing so please use your tenant portal. Photos can also be uploaded to support your maintenance requests. Report any leaks so minor problems don't turn into major ones.
We have a new process for submitting emergency work orders.
For emergencies only, please call (713) 352-3768. Messages left will be checked after hours and on weekends. Please submit a work order as well. Please make note of this change.
Maintenance emergencies are:
Major Water Leak (shut off water immediately)

Heat is out and it is below 55 degrees

AC is out and it is above 85 degrees

Toilets: None are working (not just one)

Sewage backup throughout (not just a clogged drain)

Broken windows and doors (not lockouts)

Electrical: Outages (not caused by the power company or weather related) that affect major parts of the home
We service each of our rental properties quarterly or semi-annually for filter changes, smoke alarm testing and property walk throughs. This is a requirement of your Landlord and to ensure the safety and condition of your home. If you refuse service, do not allow access to your rental property, do not leave your keyless deadbolt unlocked or do not safely secure your pet in its crate, a $65 trip charge will be added to your rental account.
If you are ever locked out of your rental property, it is your responsibility to contact and pay for locksmith services. This is not a maintenance request (see above).
Do NOT pour oil or grease down any drains including garbage disposals to prevent clogs and repairs being charged back to tenants due to misuse.
"Flushable" Wipes — and Almost Everything Else — Are Not Flushable. Here is a simple truth. Sewer systems were designed to handle two things — human waste and toilet paper. Flushing wipes increases the chances that the pipes will get blocked and cause serious problems for the sewer system in general. Repairs caused by misuse will be charged back to tenants.
Per your Lease Agreement, all tenants and occupants 18 years and older need their own separate Renter's Insurance Policy or on a combined policy naming all tenants and occupants as insureds. 3G Properties Group should be named on your policy as an "additional interest" so your insurance company will automatically send us your proof of insurance and any changes or updates. If all tenants are not named on the insurance policy or we do not have a copy of your policy on file, there is a mandatory $12.50 landlord's liability insurance policy charged to your rental property each month to be included in your rent payment. Tenant's personal property is not protected unless Tenant has their own RENTERS INSURANCE.
DUE TO LIABILITY, UNDER NO CIRCUMSTANCES SHOULD ANY TENANT OR OCCUPANT ACCESS THE ATTIC OF THE PROPERTY FOR STORAGE OR ANY OTHER PURPOSE. You are not allowed to change your AC filters if they are located in the attic space or above 6 feet from the ground.
No temporary or above ground pools of any kind or trampolines are permitted on the property per your Lease Agreement, paragraph 12D.
Tenant must kennel or crate pets whenever landlord or landlord's representative will be on property for a scheduled appointment. If not, there will be a $65 trip charge added to your rental account.
If you have an addition to your family, i.e. new baby, please let us know so we can add them as occupants. We will need their name and date of birth. Any occupants 18 or older are required to complete a rental application for approval prior to them moving in.
Please make all payments through your portal. We do not accept personal checks.
---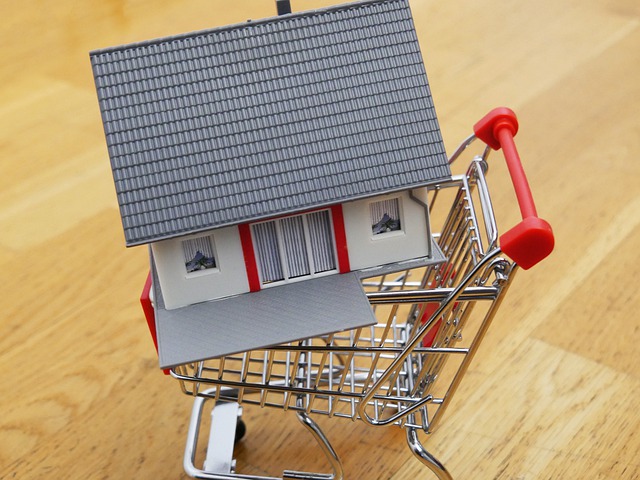 Want to buy your next home?
3G Properties Group wants to be your full-service Realtor®. Our team is a top producer, experienced and knowledgeable to assist clients with purchasing and selling their homes in addition to our property management services. We can guide you through the steps, put you in touch with one of our preferred lenders and help you improve your credit so you can purchase your next home. When you are ready to step into home ownership, please let us know.
---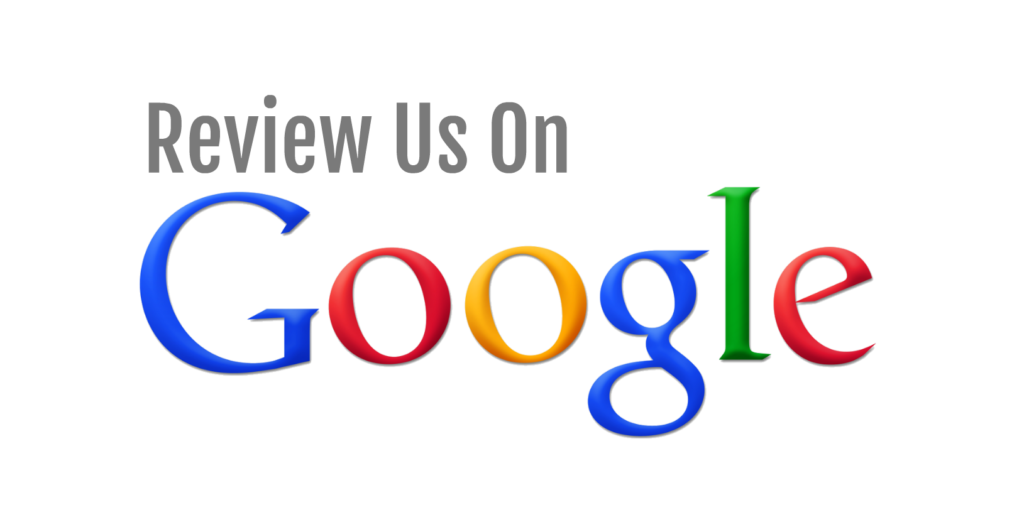 ---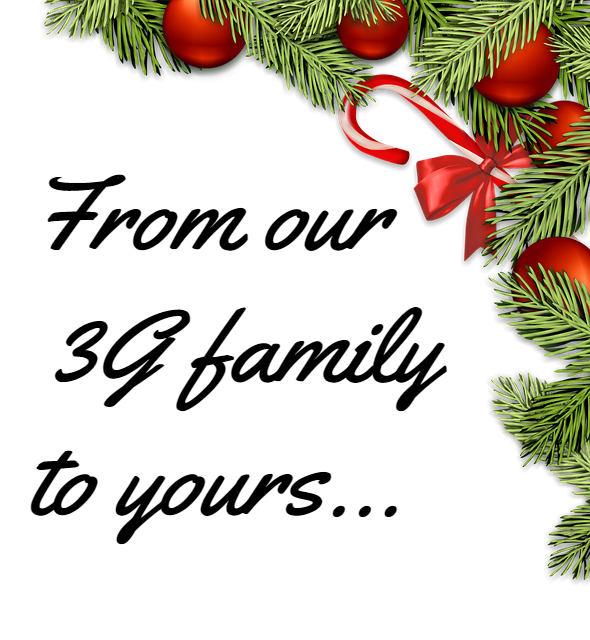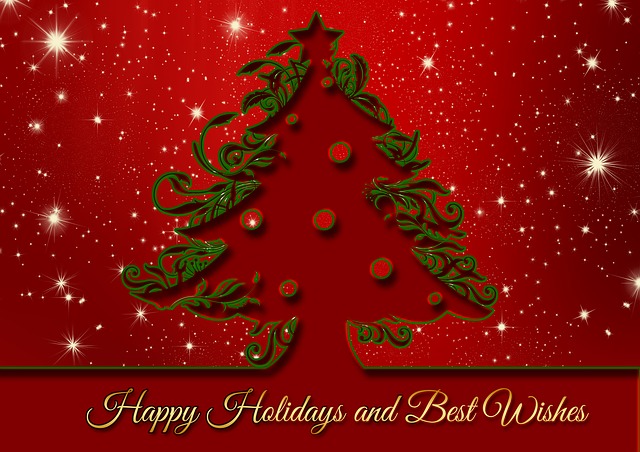 ---